Introduction
The Wiard 300 Sequantizer is a sequencer/quantizer module. Features include voltage stage-selectable eight step voltage source with semi-tone quantizer, lag processor, control voltage mixer and transposer.
The unit implements most of the stage performance controls from a Roland TB-303 including octave transpose up, octave transpose down and slide on/off. Each stage has a diode isolated gate output which can be multipled together for an accent bus. The quantizer has an external transpose input for a keyboard. The quantizer and 0-10V outputs are available simultaneously.
Also, the digital counter and flash A/D input are X-ored together so adjustment of the "Select" input during sequencing permutes the sequence pattern. (Like the random switch on a ARP sequencer, only more controlled.)
Features:
• An eight step analog sequencer (stage selection is by voltage or by counter)
• A voltage quantizer
• A control voltage mixer and transposer
• A jack multiple
• Bantam (TT) or 3.5mm jacks
Downloads:
• Large Front Panel Image
• Original User Manual
Block Diagram: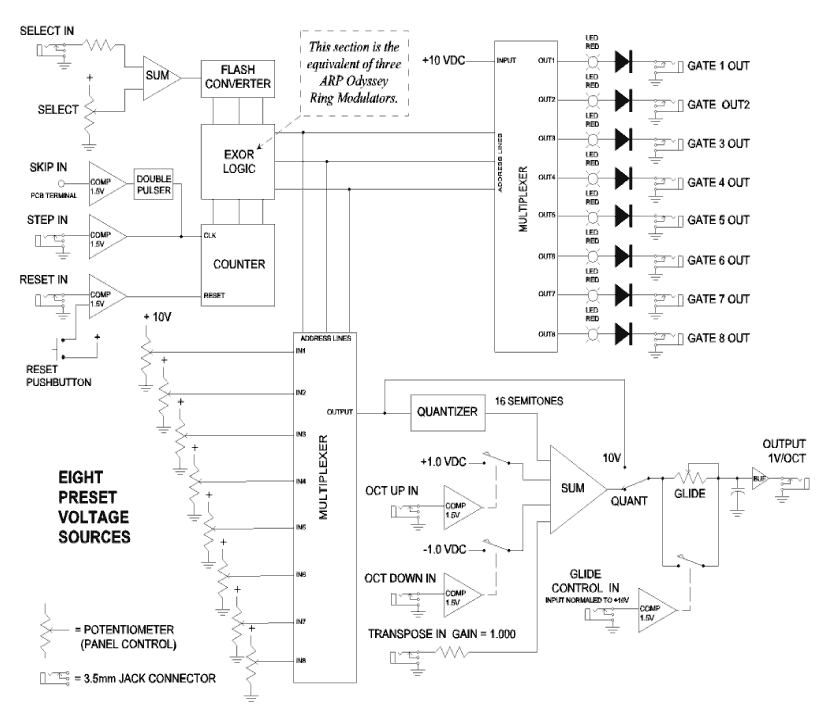 Website contents © 1999-2016. "Wiard" and the Wiard logo are trademarks of Wessex Analogue.